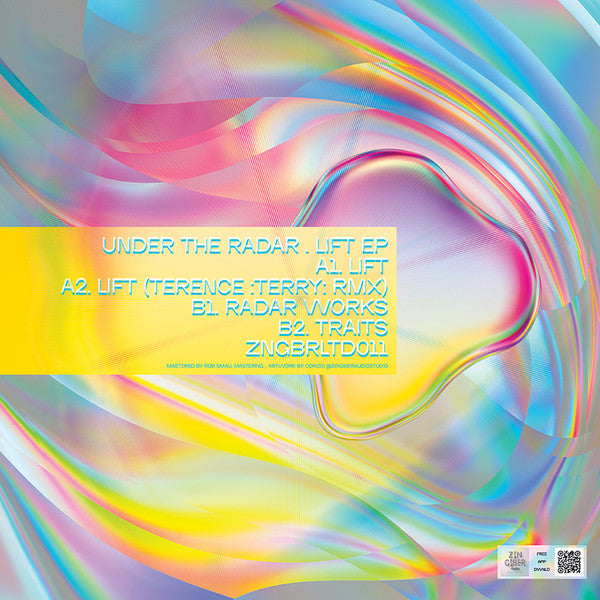 Under The Radar (Pt) - Lift EP (ZINGIBER AUDIO) (M)
Out Of Stock
ZINGIBER AUDIO
Label: ZINGIBER AUDIO - ZNGBRLTD011
Format: 12", EP, Ltd
Media Condition:  Mint (M)
Sleeve Condition: Mint (M)
Country:      
Released:  2023-03-10
Genre:       Electronic
Style:         Minimal, Deep House, House
Comments:
Brand new unplayed copy. Protective dust sleeve included.
Notes: Zingiber Audio is back with its 11th vinyl. This time, it's Under The Radar trio from Porto who is on release duty. The 3 Djs and producers are well known in Portugal and are currently spinning at Lottus Afterhours as residents. The relationship with Zingiber Audio started back in 2020 with the digital release « 4 more Ep », followed by the 1st series of tapes « Selected Works », which showed the Portuguese skills as producers.
In 2023, they bring 3 tracks for the dance floors on this vinyl with the French veterant Dj and producer Terence :Terry: who gives an organic breaky minimal house touch to his remix of « Lift ». Full of energy and deep vibe, Terence :Terry: remix completes the Ep that is limited and vinyl only exclusive. Mastered by RS Mastering, Artwork by Thibaut Corsant for Zingiber Audio. Distributed by Vinylfuture.

Tracklist:
A1. Lift 7:23
A2. Lift 8:02
B1. Radar Works 7:43
B1. Traits 6:41

Listen:
Data provided by Discogs