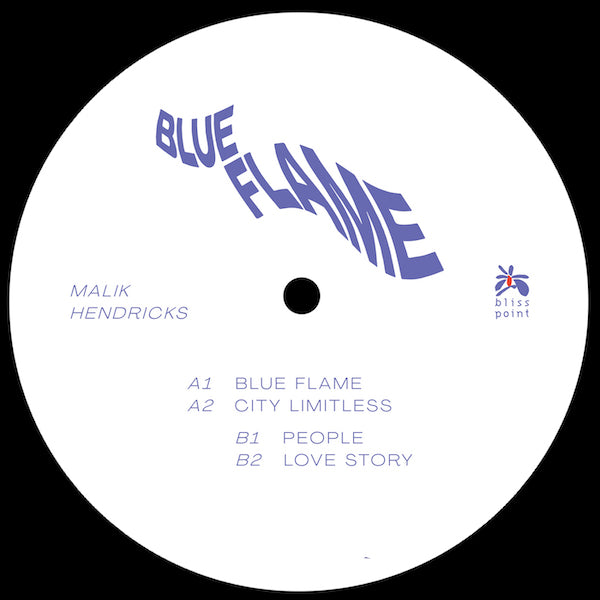 Malik Hendricks - Blue Flame (Bliss Point) (M)
Label: Bliss Point
Format: 12"
Media Condition:  Mint (M)
Sleeve Condition: Mint (M)
Country:    US  
Released:  April 15, 2022
Genre:       Electronic
Style:         Deep House, House
Comments:
Brand new, Unplayed copy. Black paper sleeve.
Notes: 
Malik Hendricks has carved a place for himself in the New York City club scene with a string of carefully composed releases on musclecars' Coloring Lessons imprint and his own Money Cat Records, each full of gems mined on the line of deep house and deep listening.

Malik continues this run with Blue Flame, his debut on NYC label Bliss Point. Blue Flame finds Malik in full control of his craft, offering an alchemy of warm, in-the-pocket house grooves, live instrumentation and sparse, soulful vocals that build masterfully toward dance floor catharsis.

Joining Malik on Blue Flame is Amsterdam based producer Retromigration for a remix of "Love Story". Retromigration has built a name for himself with jazz and soul inflected house cuts on esteemed labels Wolf Music, Rhythm Section, and others.

Written & Produced by Malik Hendricks
Mixed by Ben Hixon
Mastered by Ruy Mariné at Dubplates & Mastering

"City Limitless" features John Silas
"People" features John Barera
"Love Story" features Ben Chapoteau Katz

Artwork & layout by Aaron Schoenfelder
Portrait by Cameron Nicholson / Prof Weston
Tracklist:
1. Blue Flame 06:15
2. City Limitless 04:46
3. People 05:08
4. Love Story 06:02
5. Love Story (Retromigration Remix) 05:47