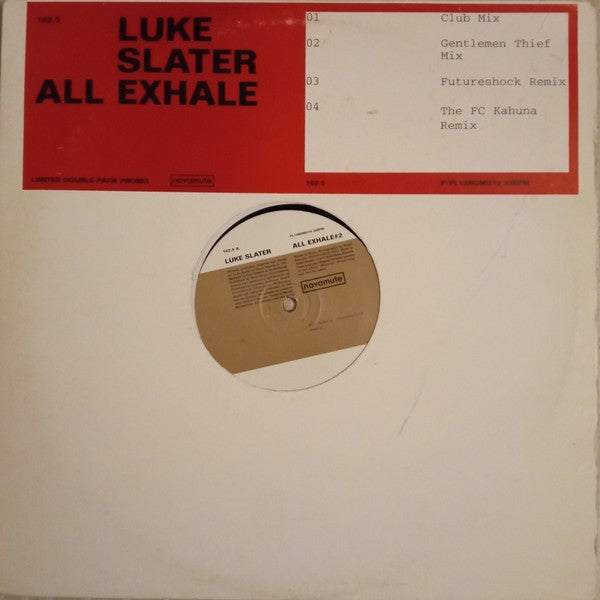 Luke Slater - All Exhale (NovaMute, NovaMute, NovaMute) (VG+)
In stock
NovaMute, NovaMute, NovaMute
Label: NovaMute, NovaMute, NovaMute - P/PL12NOMU79, P12NOMU79, PL12NOMU79
Format: 2x12", Ltd, Promo
Media Condition:  Very Good Plus (VG+)
Sleeve Condition: Not Graded
Country:    UK  
Released:  2000
Genre:       Electronic
Style:         Progressive House, Techno, Electro
Comments:

Notes:

Stickered generic die cut cover.
Sticker has the catalog# as "P/PL12NOMU79", whereas the individual discs have "P12NOMU79", All Exhale #1, and "PL12NOMU79", All Exhale #2.

Written, produced, recorded and mixed at Space Station ø, UK.
Mastered at The Exchange.
Art direction and design at Intro.

℗&© 2000 Mute Records Ltd.

Made in Great Britain

Original version appears on the album "Wireless".

Tracklist:
A. All Exhale (Club Mix)
B. All Exhale (Gentleman Thief Mix)
C. All Exhale (Futureshock Remix)
D. All Exhale (The FC Kahuna Remix)

Listen:
Data provided by Discogs